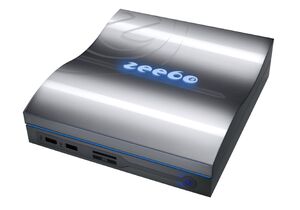 Zeebo is a 3G-enabled entertainment and education system from Zeebo Inc. It enables users to play video games, and also connect to the internet, communicate online and run educational applications. The Zeebo was targeted at developing markets such as Brazil and Mexico.
Overview
Zeebo Inc.'s stated intention was to create an affordable console with inexpensive games and educational content delivered via wireless digital distribution to circumvent piracy. There are no DVDs and cartridges; games and other content are downloaded wirelessly over broadband cellular networks. In addition to games, the Zeebo system also provides internet connectivity, enabling users to access educational and information content, communicate via e-mail and do social networking (this capability was supported in Brazil and Mexico).
Zeebo has attracted a growing list of content from companies such as Activision, Capcom, Digital Chocolate, Disney Interactive Studios, Electronic Arts, Fishlabs, Flying Tiger, Gamevil, G-Mode, Glu, id Software, Limbic Software, Namco, Polarbit, Popcap, Twelve Interactive and Vega Mobile.
Double Dragon games available on the system
External links