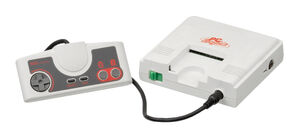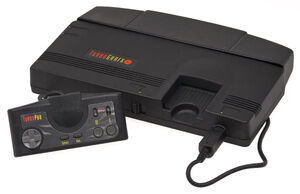 The PC Engine is a video game console released by NEC, a Japanese company, in 1987. The system was released in 1989 as TurboGrafx 16 for the North American market. A PAL version of the system also saw a very limited release in the UK and continental Europe in 1990 as "Turbografx" (sans the "16" in the title).
The TurboGrafx 16 was an 8-bit system with a 16-bit graphics chip, capable of displaying 512 colors at once. On March 23, 2006, at the GDC Conference in California, it was announced by Nintendo president, Satoru Iwata, that Nintendo would offer virtual backward compatibility of the TurboGrafx 16 with their then upcoming game console, the Nintendo Wii.
Super CD-ROM²
In 1991, NEC introduced an upgraded version of the CD-ROM² System known as the Super CD-ROM², which updates the BIOS to Version 3.0 and increases buffer RAM from 64kB to 256kB. This upgrade was released in several forms: the first was the PC Engine Duo on September 21, a new model of the console with a CD-ROM drive and upgraded BIOS/RAM already built into the system. This was followed by the Super System Card, released on October 26, an upgrade for the existing CD-ROM² add-on that serves as a replacement to the original System Card. PC Engine owners who did not already own the original CD-ROM² add-on could instead opt for the Super-CD-ROM² unit, an updated version of the add-on released on December 13 which combines the CD-ROM drive, interface unit and Super System Card into one device.
Double Dragon games available on the system